These publications are in no way organized. They are quite literally listed as they were found stacked in my rectangular room where my books & bed rest.
NO ME
NOME is the long-awaited anthology edited by Jason T. Miles. This thing is a powerhouse of arthouse beauty & straight-up comics. It makes my heart weep each time I open it. It's an example of what a person who loves something can create when they put their whole heart into a project. Here are some names you can find between the sheets of this bed of art you can wrap up in. Nikki Burch, Chris Cilla, Max Clotfelter, Austin English, Eroyn Franklin, Gabrielle Gamboa, Julia Gfrörer, Tim Goodyear, Cameron Hawkeye, Gerald Jablonski, Dunja Jankovic, Juliacks, Jesse McManus, Luke Ramsey, Virginia Paine, Tony Remple, Tim Root, Ian Sundahl, Tom Van Deusen, Chris Wright & that's not all folks, but it's an awful lot of people who will end up on this list further.
Acorn / Yoko Ono
Acorn is the continuation of a project Yoko Ono began in the '60s, released as Grapefruit. Grapefruit is easily the most brilliant book EVER made. I utilize it almost daily. Acorn is material she published originally in 1996 on the internet as a continuation of the Grapefruit work. Acorn is also special to me because it, along with the written exercises, features a lot of small-scale stippled illustrations that are gorgeous and expertly rendered in their abstraction. I LOVE IT! I LOVE IT! I LOVE IT! 
CONDITIONS on the GROUND / Kevin Hooyman
So, early this year I'm setting up the Gridlords OTHER WORLDS anthology and e-mailing back & forth with Kevin, and he is, as has been my experience, a little nervous about making comics. He told me in some way he doesn't think he really knows how to make one, but he is not the kind of person to back down from an adventure! So he went out & produced one of the comics I am most thrilled and proud to have anything to do with. Then I find out all at once only 3 weeks ago that he has since published 7 ISSUES OF A SELF-PUBLISHED SERIES!!!! ALL IN ONE YEAR!!! WHO IS THIS MAN?!!! YOU THINK YOU KNOW SOMEONE AND THEN THEY BLOW YOUR MIND!!! GAWD!!! This series has seriously been such a surprise for me & I am a huge fan of it and Kevin. These are very intimate comic vignettes. I believe they are revealing a lot of Kevin's everyday experiences to us. There are a lot of conversations with animals and babies and a lot of exploration with demons. I'm not saying that I know that to be true. I mean, I feel confused by this man and in the shadows as much as anybody, even if I have worked with him.
Arsene Schrauwen / Ollie Schrauwen
This is the second part of the greatest story ever told!!!! It's not cool to say that you wished everything was like "this thing" or "that thing" But I almost seriously wish everything WAS like this book! I don't even want to spend time saying anything about it because I don't want to sway you to feel anything aside from this……. IF YOU DON'T READ THIS YOUR LIFE WILL NEVER GET BETTER. 
GREYS / Ollie Schrauwen
Oh yeah & when you weren't looking Ollie made time to get this beauty of a book out for Desert Island. It's about his penis and when it was abducted by aliens. This is maybe one of the most earnest looks at being male in a world where it is totally unnecessary to explore that topic any further…. EVER….. Ever again. Who cares about men! They've been the topic/subject/protagonist antagonist of everything since the beginning of humankind. That said, this one is pretty great and maybe it should be the last one.
Video Tonfa: Crypticon / Tim Goodyear
This is a really nice collection of several of Goodyear's Tonfas put together to accompany an epic art show he had early in the year. We should feel blessed that Goodyear shares anything with us. This is Goodyear's world and we get to watch the movies in it, and here we are also blessed with Goodyear's thoughts and renderings of them. The images are Goodyear's straight-up representations of VHS box sleeves. Pure Love. Reality. Truth.
That One Thing / Sam Kulla & Theo Ellsworth
Years ago, I think in 2007, Theo had just gotten done spending time with one of his old buddies from his hometown whom I had not met. He told me he had spent a very productive time doing a collaborative book exercise with his friend. I immediately wanted to see it & thought I'd lose my mind if I didn't. Thankfully Theo knows that of me & it appeared in my hand. It was a series of folded papers all in an order as though it was a completed book. I was instantly SO in love with it. It was so charming and romantic in a way that I hadn't seen in Theo's work previously, but has been there since. In this story Sam has I believe absorbed a little of Theo's sentiments & Theo has absorbed Sam's spontaneity. Together they have formed for each other a new sense of vision with added emotions. This has I believe played a large role in both of their work since. I have wanted a copy of this (though it was not yet complete) since the moment I saw it in 2007 & I received it only a month ago with crazy excitement!!! It is one of the loveliest and fastest-paced harebrained love stories ever told. It reads like you are watching Jim Henson's The Storyteller mixed with Peter Greenaway's THE FALLS.
Strong Eye Contact / Christopher Adams
I didn't know anything about this guy until Tom van Deusen gave me some knowledge on him and I bought what I could of his work from the 2d Cloud people at their Short Run table. This guy is the real deal! This man is an artist. If I had any complaint with this book it is only with its printing. It's hard to read & feel okay with work printed only on one side of the paper. I don't believe it serves a conceptual or reading-flow purpose here. Enough on that, though. There's a freedom that is felt in the work visually and also in the story's main character that is hard to explain. The work and storytelling is super tight & expertly executed. Silent comics are a difficult work to tackle. Both to make & (for some) to read. I have had a million conversations with friends on the subject & found that many people, when reading silent comics, get stuck because they are filling in visual verbalized thoughts and sounds where there are none, & getting lost in it. This thing here is absolutely beautiful & complex & systematically absorbs you in until you see yourself in primary colors living on the embroidered grid. 
Social Discipline vol. 7 / Ian Sundahl
This is one of the most rewarding series to read. Each time I read a new one or I reread a volume, I can literally feel my mind being rejuvenated or growing. I typically laugh out loud but don't LOL. I also typically NEED to show each page to someone immediately after I have read it or I feel like I'm going to explode if I don't share this feeling! Typically this feeling is uncomfortable in a way I love to illustrate though facial ticks as I display it. These books are like games to keep artists from getting Alzheimer's. I can't get enough! 
Three Fates / Emma Louthan
I am super in love with this book. It's intense, terrifying & beautiful in a way that comes off like an artist schooled by Shelley Duvall's Faerie Tale Theatre & was scalded watching scrambled pornography from another world through an old cable box. Its gorgeous circular panel-free storytelling wet flowing brush lines really excite the eyes through its alluring mythology. I want more! This thing left me wanting more!
thankfully this year we also got…
Club Queen Rat King / Emma Louthan
I was told that this mini comic reminded a friend a little of me. I couldn't be more flattered! But to say that is truly a reverse compliment to Emma. She's a real artist with real vision that I could only dream of. Dream on I will. This book was released by Ray Ray books, deliciously printed in Gold & Blue risograph on pink paper (so fucking elegant!) I want to unwrap it and devour it. I ended up getting it for a friend seconds after I got one for myself & then got another friend to get it themselves upon eye contact with it. This book's got a power. Get one while you can! 
Are Snakes Necessary? Issue #2 New England / Matthew Thurber
Matthew is the neu Saul Steinberg. His work is always giving me that feeling that I should just quit because this man's got all the ideas and he executes them perfectly. My excited friend Wally beat me to finding both the previous issue of this as well as this one and he made me read this one immediately when he got it. I was instantaneously laughing my insides into a rager & at the same time upset I didn't own my own copy yet because I was gonna need to study these images over & over again. I am also such a sucker for work that delves into other aspects of culture that get ignored in favor of easy stuff that's wider-reaching, i.e. pop culture, although Thurber plays with both. Matthew has excited my synapses with characters talking about noise music & sub genre art performers his whole rad existence. I hope it never stops! 
Scaffold XXIII - XLIV / Most Ancient
This duo of Veronica Graham & Jesse Eisenhower are functioning on a level so high & so much their own that there is nothing like it. Their work gives me a good anxiety rush each time I open its busy pages. The pages are filled with environments so detailed with such incredible and varied line work that I get nervous the way you can when entering a crowded room or a large building you've never been in. It's important to give yourself to them and recognize that they are totally in control and they will guide you through their world and you are lucky to be there. Oh & did I mention there's a narrative? Yes, that's right, this stuff is perfect!
Dungeon Family / Matt Furie
My advice for this one is to put on Pictureplane's Thee Physical album. get yourself one of every color of Shaq Juice and lie back and really soak this one in. This dood gets radder with his pencils each time I see new work from him. I am extremely jealous of his brick wall fades. I am also super into these new parent images. It's rad to see images that reflect the diversity of parents. I am gonna go google if Matt had a baby now actually because 2 of my besties started drawing images in this parent/child portrait layout upon becoming parents like it was an obsession. 
Treasury of Mini Comics: Volume One / Michael Dowers
OK so if you don't own this you should run out of your house/apartment or whatever you are renting right now & go pick this up for the enrichment of your life. This project seemed so unreal when it was 1st uttered to me that I was sure I was being scammed. A weirdo with a beard who was tabling behind me at a comics show told me it was going to happen & that I should give him my books so they can be included down the line in the HISTORY OF MINI COMICS. I was like "Oh yeah that's fucking brilliant, I should start telling people that to get free books." But something in this weirdo's eyes told me to go with it, and the fact his daughter took over for him to sell his insane books made me sense some real earnest magic at play. Next thing I know Volume 1 is handed to me at a Gridlords show by one of my best friends, Emily. It's real! This thing is a heavy weight. It begins beyond belief with a cartoonist who made a mini comic before xerox machines even existed. This thing is full of incredible history & a love for self-published comics that is unmatched. If you are in college right now & looking for something to study for your thesis, I would say this thing has an insanely engaging history to sink your brains into and really get into some still mostly unresearched territory. The simple fact that this book exists alone is magic. Go get it now! I get a nice mention among some of my best friends in one of the artist's statements within the pages too :)
Barbara Nessim: An Artful Life
Barbara is not dead yet & very much alive still making absolutely stunning, thoughtful & inspiring work. So whatever you do, don't let the title of this one fool you. She is 74 and staying beautiful & awesome! I wrote a big write-up 6 months ago when this brick of absolute colorful genius came into the world. You can read it here. http://www.gridlords.com/post/53704284500/barbara-nessim-an-artful-life-reviewed-by-sean
Black is the Color (Fantagraphics edition) / Julia Gfrörer
Last year when this comic existed both as Julia's self-published 2-issue set & the web comic on Studygroup I chose it as one of 2012's best. But I'm taking this opportunity to shine a light on it (though it's already shining so bright) again. here's what I said last year.
Okay so, when am I not talking about Julia? I know. But seriously, friendship aside, Black is the Color is one of the richest reads imaginable! She did all the things it requires to get to me: 1. You craft a delicious romance that is tender, almost cute but uncomfortable with elements that feel tense & dark at the same time. 2. Characters must have intimate and odd attraction mixed with likewise eroticism. 3. Somewhere there must be otherworldy dealings that are difficult to traverse and may be evil depending on where you stand. 4. One or more characters has to make experimental music at some point or at least talk about it and this music must tie in conceptually to the theme. She covered all of these and more & I will never stop loving it! I have to quit this, I don't want her head to get big.
Zebadiah 2 & 3 teaser / Asher Craw
This is one of the most incredible series in the history of time. It's a real tearjerker romantic folly with everything the making of myth needs. We have talking animals, ghosts, alligator skins and a coming-of-age genius that will take your consciousness to a new level and send your heart aflutter. Get educated on this if you are still behind. Gridlords gave Asher a gawd damn achievement award for his 1st book last year! Pay attention!
Bart v Universe / Joel Statz

I reviewed this earlier in the year when it originally blew my mind. Here's a poem written about it that I think says a lot about how perfect this little piece of heaven is.
Chapter 1.
Was Alf the extra terrestrial modeled after Huey Lewis?
Was that ever in the news?
Both had heart & soul
Take those old records 
……………Off the shelf!
David Hockney: A Bigger Exhibition
This is a book covering the mostly recent works of Hockney exhibited at the De Young museum in San Francisco. The exhibition's locale couldn't be more perfect for its subject except that humorously the show showcases his latest series of landscape goliaths, which are some of his favorite countrysides of England, as opposed to his famous capturings of Californian backdrops with palm-tree-decorated yards & bodies with pools. The new landscapes are absolutely stunning and colorfully playful even further than we have seen from his work as he progressed. I'd say his color choice has actually grown in vibrancy with his contrast set high in the color wheel. It's so wonderful to see someone grow more explosive as they age in opposition to the usual tendency to grow into comforts of one kind or another. This book certainly features Hockney's continued playfulness with a series of embarrassing but exciting-to-be-in-on self portraits in the iPad medium. I mean that in a fun way. Love!
Assorted Steeds / August Lipp
When I 1st met August my feeling was that I was seeing the work of a new youth of art that I hadn't seen but felt was to come. A generation raised on the last of the educational programs/Nickelodeon shows and the paranoid/violent altered school system that came into play as I entered adulthood. It's refreshing and very introspective & beautiful to me in a way that I had not expected. The work has a quality that is alien to me & yet I can see its roots so it's not so foreign. This work by August is some deceptively intelligent work. I feel like its goofy qualities may distract people from how much thought & work were put into composition and the elements within. But this I'm sure is also controlled by the hand of the artist. I hope August makes more series like this.
School Spirits / Anya Davidson
This book came in like the aftershock answer to your wildest dream! I have been thirsting for this book for years. In the late '70s there was a something something vibe. A weird world of ghoulies with high art values but daringly fun. Nothing has hit the right note or struck the right chords in my punk rock glamiverse since then. I was wasting away, with only the past & James Ferraro's Night Dolls with Hairspray truly capturing the essence of the gamma ray beam that shot through my unique arts high school experience. But thankfully here is the answer! Here is the perfect book! Anya captures it all! This is another one of those books where when I am even just thinking about it my fist starts pumping & I wish that everything was like this book. Would I ever get bored of this world? I don't think so! This thing is drawn with such skill that the world will be sweating their flesh off for the next millennium trying to catch up. Her lines are powerful and exact in their expression. The coloring is a dream! If you all wanna discuss this thing in person I'd love to — I feel like I could talk about this thing forever.


Scribbler / Wally C.
This art book is a perfect mirror or window into its artist's personality, if ever there was one. Piles on piles for what looks deep for miles & miles is line upon line arranged like a messy bedroom with all of its keeper's favorite things & friends & friendlike things. When gazing at the pages you will never keep up with its energy. You will find something or someone new every return of the page.
This book is a Boredoms album.
This book is a family portrait album, with all Wally's hairs & jeans.
put it on!

Blunderbuss 3 / Graham Kahler
Blunderbuss #3 is another leap for Graham's ever-perfect line work, and his attention to representing each gesture & nuance & form with the most simplicity and delicate precision possible. The man's hand is a powerhouse. His perfect line runs over a bed of poetic storytelling that is far beyond that of most of our current authors and is something to aspire to in the wasteland of writing in current comics. This man needs more attention on his work! It's full of warmth & depth with breadth of vision and so much thought. This episode features mountains of gorgeous repetitive cycles & line work to conceptually illustrate these moves like a dance. This is my favorite yet!


Life Zone / Simon Hanselmann
I don't know why & I guess if I had to say why, I'd say I'm jealous of this man & so I tried to resist him & his charms. I'm jealous because I too have been dressing as a witch for years, and I am always a little turned off by self-made internet fame because it's hard to trust. The internet is like the wild west with all the stunts & hats & shootouts included. But this man is maybe one of thee most talented hands out there. His draftsmanship is enviable and his paintings are unbelievably skilled & easy on the eyes. His composition is Kubrick mixed with Simpsons or maybe the cinematography of Tom Richmond circa the late '90s. Simon's writing is well paced and a fresh voice in grunge humor mixed with slipped-in highbrow morals. I love this collection & can't get enough of it. One of my favorite things about this book too is how much love Simon shows his friends. It makes me totally explode with joy to see that he can't help but include them all and show off his pride in them and how highly he thinks of them. And they too are well deserving of this love, each person is a total force in worlds of their own that I hope end up with as much respect as Simon. A total love fest. Now I wish someone would take a risk & publish a non-narrative art book of this man's paintings. Gridlords can only dream.


World Map Room / Yuichi Yokoyama
Okay! Is anyone else freaking out that we will maybe never get another stateside Yokoyama book ever again now that Picturebox quit???!!! This man is seriously one of my heroes and he got that title so quickly, with his amazing output since 2009. I'M FREAKING OUT!!! GO GET THIS BOOK! GO GET THEM ALL! TELL EVERYONE ABOUT IT! SOMEONE MUST CONTINUE PUBLISHING HIM HERE!


Sweet Meats 2 / Edie Fake
I had the pleasure of finally meeting the little god that is Edie. I have admired Edie for so long & feared Edie for as long. I once sat at Secret Acres's table in Portland the year Gaylord Phoenix was collected and preached it as the most important publication in years with absolute sincerity. Upon meeting Edie I got to eat with Edie, and found Edie's eating habits were not what I imagined given the sexual tension & room for political commentary in many of Edie's food-oriented art books. Edie's eating habits were the same as mine and that gave me the tiniest however silly glee & made Edie just a little more human for a second in my mind. I love this Sweet Meats book. The prints are delicious in the sexiest gnarly way with the twist of humor like the less cynical of Svankmajer's imagery.  


 Conduits / Sophie Franz
If you haven't tumbled on to Sophie yet or discovered her through Gridlords' very pages in both our anthologies, then YOU ARE MISSING OUT. Conduits is thus far Sophie's only mini comic. It is super affecting and insanely disgusting to me. I feel unnerved & gross almost every time I read anything by her. This one reads like Cronenberg mixed with the gross way I felt when I saw Bob & Carol & Ted & Alice. It's complicated. If you can get your hands on it DO IT! Otherwise I'd say you should try & talk to her ASAP.


Foreigners / Patrick Kyle
I don't know…… I don't know……. There's problems here…. Kyle has trouble with readability…… But that art…… My handwriting is bad….. REAL BAD!  Kyle's got a sweet thing here even if his cards are showing. I'm not scrounging, I keep thinking about this thing so I love it. It belongs up here. I'm just stuck.


Eyeball Burp 7 : Clip or copy, a Survey of Collage Art
This has some standout clipping that really performs well for me here. The ever-experimental goddess Dunja Jankovic will floor you with her prowess and ability to reduce her hand-drawn work to pieces and then surgically make them their chosen selves with new parts. A'Misa Chiu will have you titillated and questioning your feelings on the body with Chicks-on-Speed-like work circa the Girl Monster project. This is a super well-made small press collection of art!


Scorched Earth and Other Stories / Tom Van Deusen
I think the ultimate experience for this filthy thing is to have Tom himself in front of you seething with his Tom juices and either reading this aloud at you or just talking while he shows it to you. But second best you should just buy this confusing trip through modern love, sexual politics. Don't hate Tom, he knows what he's doing here.
Love Wins (all issues) / Jason T. Miles
I don't know where these all came from but these are perfect art objects. They each stand out on their own. I think there are 12 of them? I got handed a stack of them by the lord Tim Goodyear & was blessed. I can't stop looking to these for guidance of all kinds. They range from introspective philosopher to newsprint editions of breathtaking line art that I wish were huge painted canvases to adorn a huge gallery space. Inspiring! One of the best things is so many familiar names giving testimonials to it & fan art in the back. Maybe Jason's best work?


The IDGAF Book of Spells / Rebecca Artemisa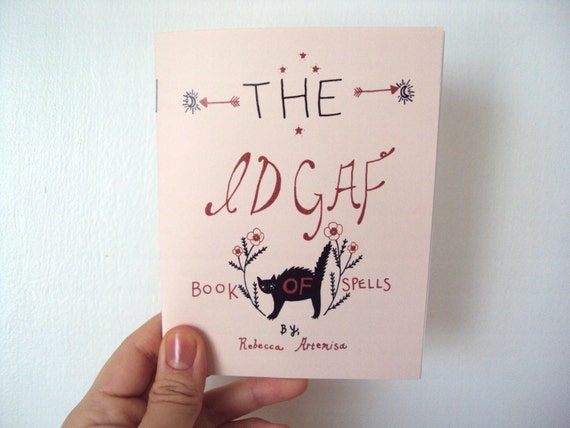 Rebecca's light-handed art is so beautiful and so well arranged it's a pure joy to just wiggle around in your seat with. These spells will keep you in stitches and your belly full of macaroni!


Occupation / Andrice Arp
Andrice returns to her roots with a tale of a doll plucked from the ground & put into a state of existence unpleasant in occupancy and for the occupied alike. This is a perfect work of comic art and fairy tale literature of the new school. This work shows Andrice has researched & read a great number of fairy tales. I want this thing to become a classic in the minds of people everywhere. It's got so much to dwell on and gives you so much to fear about your walk & choices in life. It is also one of the best looks into the mind & personality that is the artist at hand. If you have ever been mystified by this creature, I think you will find many answers here. I was lucky enough to see her through this one in progress & it is so incredible in its completion that next year when it's printed as a color book as opposed to this B&W edition, it's without a doubt going on 2014's list of best publications. Buy the B&W edition while you can! It's in limited print & you don't have your life to waste not reading this right away!


Capacity #8 & Relax We Have Alien Vehicles & Logic Storm! / Theo Ellsworth


The hardest working beastlord in comics was very productive as always this year. I wrote at length about these 6 months ago & you can read what I said of them here:
Tigard Force 6 & 7 / Amriel Simpson
We lost Amriel from this world this year. I'm super depressed to not have more work by this amazing artist, and to never have gotten to meet Amriel. These comics are a Gridlords favorite. They are some serious brilliance. I hope somewhere tucked away there is a treasure trove of Amriel's amazingly realized visions that will be shared with us all soon. Breathtaking stuff. You can read what I had to say previously on Gridlords about these perfect 65-cent books that are worth more than the world. RIP Amriel, sweet dreams. LILILIHI


Here's what I wrote previously on Gridlords:

Tigard Force #2 - 5 — Amriel Simpson

Okay so this person is basically a legend! This person made a comic like a bajillion years ago, so I understand, that was amazing and the genius Tim Goodyear saw it! Then Goodyear finds this cat again and tells them to make more comics and bring them to Floating World! THANK YOU TIM GOODYEAR! I don't want to confuse you with all the details I know about this artist or it's going to come out like a game of telephone. Part of me believes this artist is none other than Goodyear himself! What I do know is this is some highly cerebral post-modern magic that I am way feeling! You have a world where Richard Scarry characters are manipulating your mind with medication, and you are getting subliminal messages in pop songs at the club from Cobra Commander's finest! All the while you are ducking out at a camp where your only reliable companion Skipper delivers you spaghetti. I am so crazy in love with these. Issues 2-5 came out this year & they are 65 cents each! Only 50 copies of each issue so get them NOW!!!!